Deep throat sources from the Accra Girls Senior High School which was corroborated by Dzani Radio correspondent Nii Laryea Adotei indicated that about 85% of students from the Accra Girls Senior High School willingly refused to pay heed to the Electoral Commission's agenda to get them registered for the ongoing registration exercise today.
According to reports, most of them based their rejection on lack of Ghana Card but truly they used that as a bait to run away from assumed corona virus pandemic infection.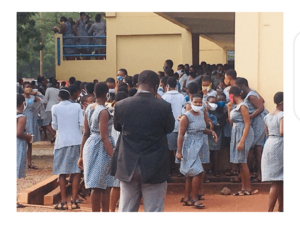 Many students the correspondent spoke to indicated that they refused to join the exercise today for fear for their lives.But when teachers contact them, they claim they don't have Ghana Card. And when giving guarantors, a student will tell you I'm coming and won't be back again for the all voluntary exercise.
The Electoral Commission of Ghana today started registration for all final year senior High Schools students on their various Campuses.