The Judicial Service has written a rejoinder to one of Ghana's leading news portals, Ghanaweb demanding an apology and retraction of a news publication on the news portal concerning the Judge in the Kenedy Agyapong Contempt case.
In the rejoinder sent to Ghanaweb which was signed by the Judicial Secretary, Justice Cynthia Pamela Addo, the service indicated that, the story wiry the headline " Judge In Kenedy Agyapong Case Transfered Outside Accra", which was published on the General News page of Ghanaweb news portal on Thursday, October 15th 2020 was false.
The rejoinder states that, the Service wish to place on record that, the publication was totally false and without foundation.
The rejoinder further indicated that, the Judge involved in the Kennedy Agyapong case, His Lordship, Justice Amos Wuntah Wuni is still at post at the Land Court 12 Law Court Complex in Accra and has not been transferred to Ho as the publication asserted.
Read the rejoinder below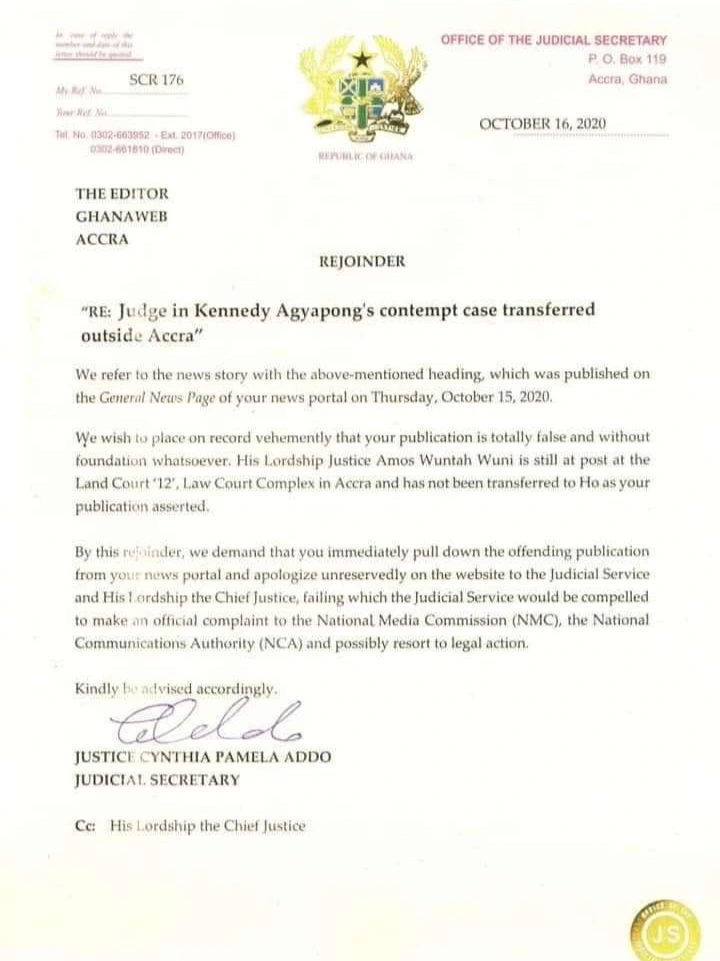 The rejoinder therefore states that, the Judicial Service is demanding that, Ghanaweb pull down the offending publication from its news portal and apologize unreservedly on the Website to the Judicial Service and the Chief Justice, failing which the service would be compelled to make an official complaint to the National Media Commission (NMC), the National Communications Authority (NCA) and possibly resort to legal action.