Undefeated light heavyweight Bastie Samir who handed Bukom Banku (Brimah Kamoko) his first defeat says while he is ever ready for a rematch, he is also focusing on the bigger picture.
Bastie, 34, is the oldest of three brothers who have a record nine medals from the African Championships and secured Olympic qualification berths in their respective careers.
He hit the headlines in Ghana when he floored and defeated Bukom Banku (30-1, 23 kos) in a highly-patronised light heavyweight contest in October 2017, via a seventh-round TKO. After a rematch was secured by the promoter Alex Ntiamoah of Box Office Promotions and scheduled for June 2018, Bukom Banku surprisingly chickened out.
"The truth is that I am ready anytime for a rematch with Bukom Banku but I will not wait for him. I am targeting a world title and want to start working towards that," he told Joy Sports in the recently aired documentary Olympic Boxing Genes – the story of the Samirs.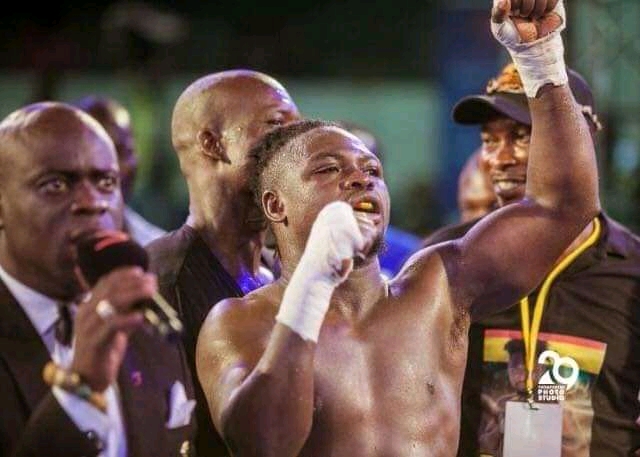 He believes that two or three good fights can get him ready for his much desired shot at a major world title.   
Bastie, has gone 18 bouts unscathed and has recorded knockouts in all but one of the fights. This coupled with a solid amateur foundation which gave him some good ratings puts him in good stead to climb the ladder as quickly as he can to vie for the topmost spots in the light heavyweight division globally.
Banku after the loss
The former WBC number five contender has entered the ring twice since that big loss. The first of them was late in 2019 when he won his first fight outside the shores of Ghana by knocking out Hungarian Ferenc Albert in the third round of a contest in London.
He followed with another win back home against John Dugu with a second round stoppage in a cruiserweight contest. In mid-2020 as well he debuted as a tv presenter on GhOne Television, with a show called Bukom Banku Live.
Bastie after the win
The Accra-based boxer saw episodes of ring action after that famous win. He first defeated novice Raoul Lokkossou from Benin in a contest after which he recorded yet another TKO win against Nigeria's Sunday Ajuwa. The covid-related cancellations of sporting activities in Ghana and around the world made 2020 a lean period for the boxer. He will, however, be back in action on April 9 against Felix Mankattah.
He also had his episode with television related stuff at the first major fight night of the year put together by Box Office Promotions and headlined Independence Rumble at the Bukom Boxing Arena.  
To happen or not to happen?
Indications are that the much-anticipated rematch would come off mid-year. The unassuming promoter, Alex Ntiamoah who has pulled off some of the biggest bouts on the local scene in Ghana is likely to get both parties to the table in the coming weeks, according to Joy Sports sources picking up. Indications are that Bukom Banku's camp is showing interest in the bout.