As we all know the long lasting beef between these two Ghanaian celebrities ,Songstress Mzbel and actress Tracy Boakye. Certain claims has been made by Tracy about the "sixteen years' hitmaker ,Mzbel.
In one of many videos posted by actress Tracy Boakye, as she attacked Mzbel in their ongoing beef, Tracy alleged that the 'papa no' at the middle of their beef had lamented that Mzbel had grey hair all over her body.
According to Tracy, the man in question (papa no) left the songstress because she has grey hair all over her body and she claimed that the 'invisible man' said he was disgusted by what he saw which is why he left Mzbel for her and vowed not to engage or get that close to the musician again.
Mzbel was hosted by Peace FM's entertainment review show, to get her reactions to some of the allegations raised against her by the actress Tracy Boakye.
As the interview was on going, Kwasi Aboagye, the host of the show, chipped in a statement made by Tracy Boakye about Mzbel having grey hair "everywhere ", and asked her prove that contrary to Tracy Boakye's claim.
In an attempt to prove that allegations of her having greyed hairs are false, musician Mzbel almost stripped naked in the studio of Peace FM in an ongoing live studio section.
Mzbel started unzipping her tight jeans shorts after the host, Kwasi Boagye teasingly asked her to prove that she has no grey hair all over her body.
She was all ready and willing to show her undies on live studio section but was asked by the host and his panellists to stop which she obliged.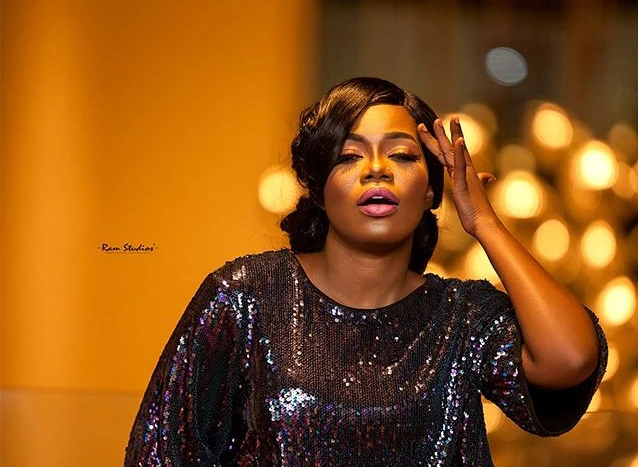 The songstress also debunked all the allegations including the one about former President Mahama being the 'Papa No'