The Ghanaian Comedian who is known for having a long standing hatred for the embattled Menzgold CEO claims a new company in town known as Metallic Refinery company is another 'Menzgold' in the making ,
She accused NAM 1 of smartly switching from Gold to Metals.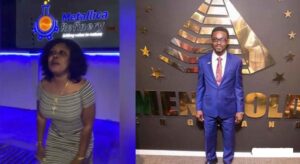 In a Facebook post, Afia Schwarz said she would never sleep until this new company collapses.
According to Afia Schwarzenegger, Ghanaian entrepreneur and CEO of the embattled gold firm – Menzgold, Nana Appiah Mensah aka NAM1 has rebranded from his old gold firm to a metallic refinery.
"From Gold to Metal. Eeeeeiiiii NAM1 when will you change. What kind of weed do you smoke because it's too powerful and stubborn,"
The video post sees the loudmouth Ghanaian media personality standing in front of a 3D designed banner, purportedly the main office of Metallic Refinery as she makes her allegation.
Watch the Video below :
Its just a matter of time and we would know if indeed Metallica Refinery is owned by Nana Appiah Mensah same owner of Menzgold which has currently been unable to operate due to obvious reasons.