After the Champions League was suspended indefinitely on March due to the Corona Virus pandemic,the competition is now set to return back having confirmed recently by UEFA that the second leg of the Champions League round of 16 will hold on August 7 2020 with Chelsea,Juventus, Manchester City and Napoli yet to play their second leg of the round of 16 before the season was halted in March.
RB Liepzig already qualified by beating Tottenham Hotspur on a 4-0 aggregate
Tottenham vs RB Liepzig 0-1
RB Liepzig vs Tottenham 3-0
Atalanta already edged past Valencia also on a 8-4 agg
Atalanta vs Valencia 4-1
Valencia vs Atalanta 4-3
Paris Saint German also defeated Borussia Dortmund on a 4-1agg
Borussia Dortmund vs PSG 2-1
PSG vs Borussia Dortmund 2-0
Atletico Madrid also disqualified reigning Champions Liverpool from the Round of 16 tie with a tight victory which ended 3-2 on agg.
Atletico Madrid vs Liverpool 1-0
Liverpool vs Atletico Madrid 2-3
UEFA has now released the quarter finals draw as it is going to be played at the same time and the same day.Also there won't be presence of fans also Home and Away stadiums with all matches due to be played on a neutral ground in Lisbon,Portugal.
Champions League Quarter finals draw:
Manchester City or Real Madrid vs Juventus or Lyon
Chelsea or Bayern Munich vs Barcelona or Napoli
RB Liepzig vs Atletico Madrid
Atalanta vs Paris Saint German.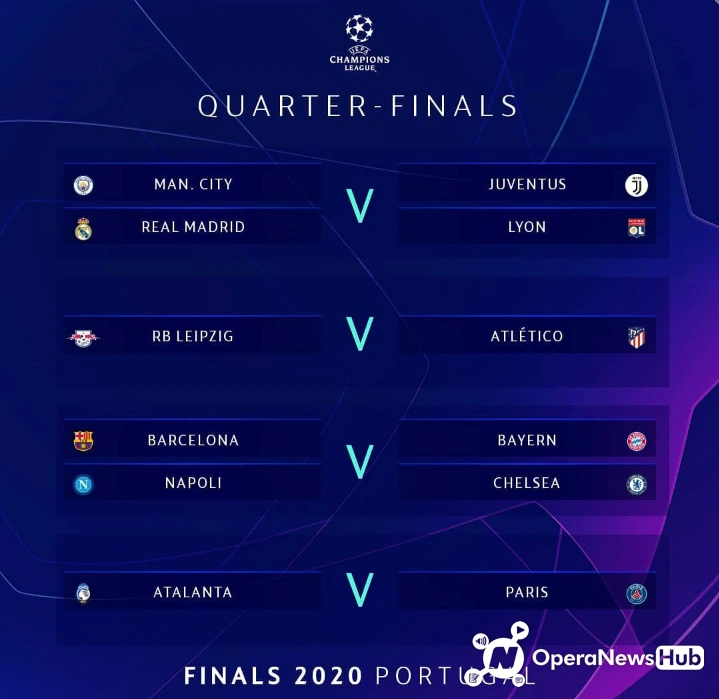 A quick reminder,
Round of 16 first legs
Real Madrid 1 Manchester City 2
Chelsea 0 Bayern Munich 3
Barcelona 1 Napoli 1
Lyon 1 Juventus 0.