The Rotary Club of Accra-West on Wednesday presented an incubator and fetoscope worth ¢35,500 to the Larteh Health Center.
This forms part of the Club's commitment to equip the Health Center with various medical equipment and furniture to improve the maternal and child health of the people of Larteh and the adjoining rural communities.
The donation was through fundraising which was supported by Rotary District 9102 Designated Fund as well as Rotary Club of Marblehead Harbour in the United States of America.
The Club President Kwame Baah-Acheamfuor said, "We are excited to return to Larteh Health Centre with an incubator and fetoscope after the presentation of maternity beds and various medical equipment in September last year."
"The Rotary Club of Accra-West and Rotary Club of Marblehead are in talks to pursue Global Grant funding for the remaining estimated $87,986 project," he added.
On his part, the representative of Municipal Health Director, Jeff Abankwa who received the equipment assured that they will be put to good use to save lives of pre-term and other babies.
The representative of Nana Otu Agyemfra VI, Chief of Larteh Kubease thanked the Club for their continuous support to the Health Centre.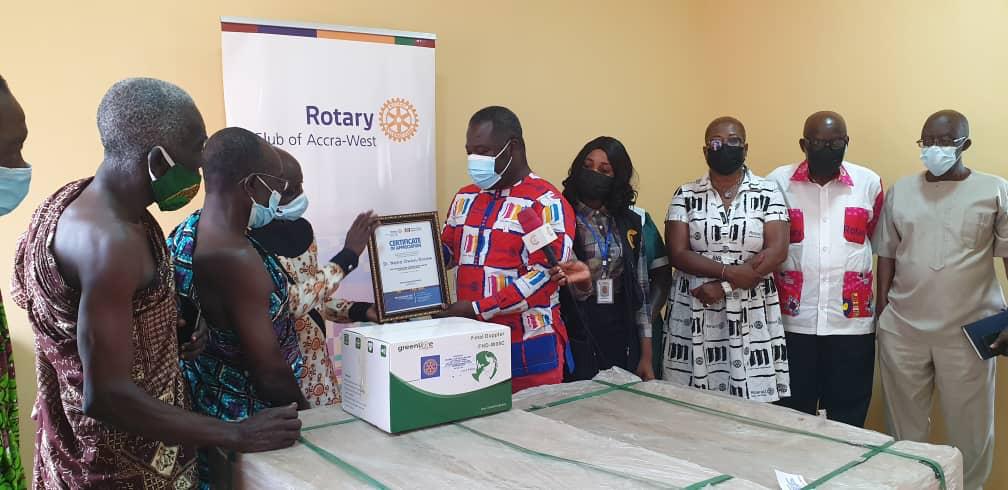 Rotary International is an international service organisation whose stated purpose is to bring together business and professional leaders in order to provide humanitarian service and to advance goodwill and peace around the world.  
It is a non-political and non-religious organisation open to all. There are over 35,000 member clubs worldwide, with a membership of 1.3 million individuals, known as Rotarians.